"Light Some Incense, Find Your Breath And Get Grounded With A FREE Download From A POSITIVE Singer Songwriter Who Brings Joy And Alignment To Every Contrast And Step-One Moment…"
And now you can download 3 of of his latest singles (joyous offerings!) for free
Listen to what others are saying about Brian Rogers!
"You have a radia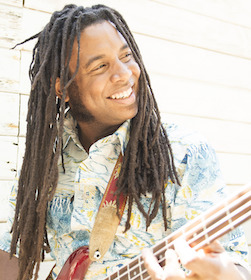 nce about you and a way with words – you dance with words." – Beth Ruyak of Capital Public Radio
"Lyric that changes the course for all of us (and) mind-boggling musical diversity." – Aaron Carnes of Sacramento News & Review
"Its Confirmed, Brian Rogers is GOD." – Fan On High-Flying Disc
With his playing featured in the infamous Huffington Post and on MTV, and his songs played at a private party for Chris Tucker and on stages literally across the world, his vibe is universal and he aims to align his fans with joy and light using any genre necessary: jazzy r&b fingerpicking, soulful folk or even eccentric funk, he's really just a storyteller who focuses on telling his new story of growth, joy and abundance, while not hiding his personal process of how he climbed that emotional scale, and the incredible diversity of people and situations that gave him the desire he now has
His music is perfect for anyone who likes what people are now calling real music (instruments behind rap/singing: acoustic guitar, great voice, fantastic drumming and bass playing), but who have trouble finding rap thats on that high-flying disc, or singers who sing from a place of who-they-really-are.
But if you act now and enter your name and email address in the righthand side of this site you'll be immediately sent a FREE download of his latest single which exhibits all of these top-of-the-emotional-scale qualities of joy, appreciation, empowerment, passion, freedom and LOVE.
So enter your name and email address now, light some incense, and float downstream as you take in the vibrations of one of the most refreshing, uplifting and POSITIVE new singer/rappers in a very long while…